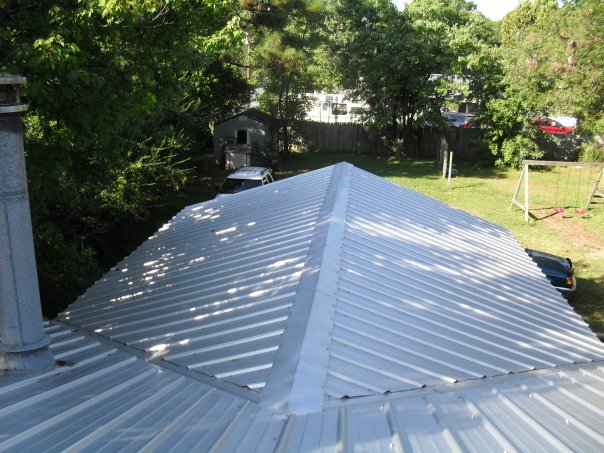 Welcome to Harbor Roofing and Siding's new and updated blog! We will be posting new and interesting topics on a monthly basis moving forward, so please come back regularly to see what we have to say new and interesting about your home. The blog will provide tips and suggestions to save you money and protect your most valuable investment – your home.
This month, we want to focus on the roof. It is general knowledge that the roof is by far the most important part of your home as it is the first layer of protection against the elements. There are plenty of different roofing materials to choose from, but here in North Carolina, most select between traditional asphalt shingles and metal roofing.
We want to talk to you about the advantages of a metal roof. We want you to be aware, however, that a metal roof is normally more expensive than a traditional shingle roof in the initial costs. You will more than recoup the cost over the lifespan of the roof and home as you will read in a moment.
Metal – why is it superior?
A shingle roof will have about 20 to 25 years of life expectancy before it becomes necessary to replace it with a second roof. Those who pass a home along to children will certainly require a new roof at some point as well. A metal roof, on the other hand, lasts for considerably longer. The small screws used to hold the roof down are guaranteed for life, as an example.
The variety of roofing materials available are another reason to consider metal when it comes to a new roof. Shingles are very limited in a color palate, basically shades of grey and black. Metal roofing comes in a variety of colors that can match nicely to siding or brick on a home with little to no effort.
Harbor Roofing and Siding offers a variety of roofing options and will come to your home for a free, no-obligation quote on services. Contact us when you are ready for a new roof.