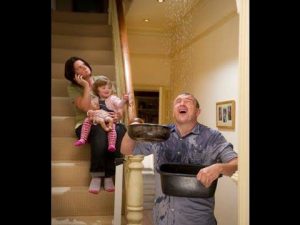 Most everything in and on a home will need repair or replacement at some point.  A roof is often one of the very last things a home will need a replacement for, and often one replacement will suffice the life of the home.  You can realistically expect a roof to last about 20 – 25 years on average before replacement.  We at Harbor Roofing are ready and willing to help you if you need a new roof.  Keep reading to see if yours is in need of replacement.
Here are a few things to look for if you think your roof needs replacement.  Note that none of these require you to be on a ladder or on the roof.  Leave that to us, the professionals.  It is NOT recommended you be on your roof for any reason at all.
Curling shingles – Shingles are the most common roof material, and they are easy to see if replacement is necessary. Look for any curls in them as this is a sure sign leaks are certain to start in short order. Shingles can curl on either edge or across the entire length.  While some may argue you can get a few more years from curled shingles, it is best to replace them asap.
Missing shingles – Bare roof is a sure sign that you will need to make some replacements. Note that it is very difficult to match shingle colors exactly because of discoloration and mold that grow on shingles. Serious missing shingles, think a checkerboard, means the entire roof may need replacement and soon.
Sunlight peeking in – You will need to check the attic, but there is no need to go completely into the attic to check for sunlight. Any signs of light peeking in is a sure sign that you will need to replace your roof and soon. This is an emergency replacement, especially if rain is in the future.
Algae and mold – There are some molds that grow on a roof and are harmless. It can, however, be an eyesore. Check your shingles for discoloration and serious mold or algae.  We can be sure that what is there is no going to undermine your roof and roofing materials.
No matter your roof situation, let us at Harbor Roofing check your roof for damage.  We have the training, insurance and safety gear to protect us against serious accidents.  We can climb up, check your roof and make recommendations for you while you wait in the comfort of your own home.