When is a Leak a Roofing Emergency?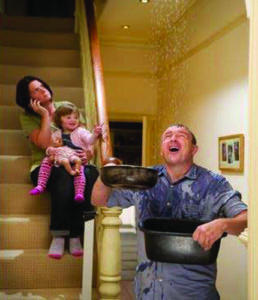 When's a leaky roof considered an emergency? There's a tiny drip coming from the roof one moment, and the next moment, the rain comes pouring into your home. Yes, that's an apparent roof leak emergency! Below we list 5 other signs that the roof was compromised by the weather and requires instant attention:
For any leak roofing emergency, please do not hesitate to call Harbor Roofing and Siding at (910) 262-5508 right away.
Discolored Ceiling and Dripping
After 3 days of massive storms, if you are seeing discoloring on your ceiling, there's a roof leak, repair must be made sooner rather than later if that persistent, heavy rain does not stop. Then a rush of water will flood your interior ceilings, and the interior underlayment which protects your ceiling starts to pond. Underlayment is going to get overwhelmed by the constant rains, then the dripping ceiling starts.
Floor puddling
Floor puddling is a clear indication of penetrating rain; therefore, once there are puddles on your floor, you already internally leak. If rainfall is persistent, at some point, the buckets will not be sufficient to catch the rain which will begin to come inside.
Paint Peeling, Moist Walls
Once water begins to run down the wall, from the interior, it'll soak through and ultimately begin to damage the wallpaper or paint. Roof leaks that cause water to run down your wall is not always easy to see. Therefore, if you notice wall stains and discoloring there's a roof leak, and repair is required sooner, rather than later because it's just going to grow worse.
Several Spots
Once you notice dripping and several spots of discoloration, there's extensive damage that is causing the roof to leak.
Massive Exterior Damage
When the rain slacks off, take some time to inspect the roof, and look for any massive exterior roof damage, and if you notice any, immediately arrange a roof leak repair. Even if there aren't any indications inside your home, it's just a matter of time. You require a professional who knows how to fix a roof leak so you do not experience any problems in the future.
For more information about our asphalt roof installation and repair services in Wilmington, NC, contact Harbor Roofing and Siding at (910) 262-5508.