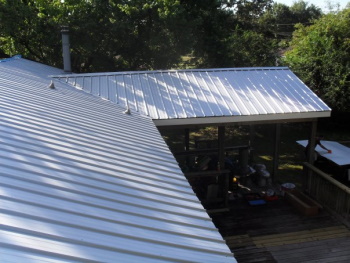 Metal roofing is used on several types of buildings like churches, fire stations, apartment complexes, and your community 3-bedroom house. Metal roofs offer energy savings, beauty, and a lifetime of home protection. Residential metal roofing is obtainable in a broad array of colors that complement any style building or home. Available in several colors, Harbor Roofing and Siding offers traditional standing seam roofing.
Avail the services of the best metal roofer in Wilmington NC, contact Harbor Roofing and Siding today at (910) 262-5508.
Let us share a bit of insight into the cost of metal roofs. We're able to show you that while metal roofing might cost a bit more than composite roofs to install, it actually is a lot less pricey over the lifespan of your property and will save you a ton of funds in the long term. While the neighbors might redo the roof on their house multiple times, quality metal roofing will probably be the last roof you ever will need.
In picking metal roofing, you will both benefit our environment and save money. Traditional asphalt roofing contributes an estimated 20B lbs. of waste into landfills within the United States annually. That can all be avoided if you invest in metal roofing since it often can be installed over your existing roof. It'll save cost and avoid the environmental effect of disposal. One benefit is that all metal roofing is made of 30 to 60 percent recycled material.
Most residential metal roofing currently uses a reflective coating technology, providing for lower utility bills and household energy efficiency.
Metal roofing is resistant to erosion, shrinking, as well as cracking. They also can stand up to wildfires and harsh weather conditions way better than any additional roofing material.
Why Choose Harbor Roofing and Siding?
The first selection in Wilmington for metal roofs, Harbor Roofing and Siding has been Wimington, North Carolina's premier metal roofing company for almost 30 years. Harbor Roofing and Siding is notorious for its installation of quality standing seam metal roofing.
For more information on our metal roofing contracting services in Wilmington, NC, please feel free to get in touch with Harbor Roofing and Siding today at (910) 262-5508.