Benefits of Installing a Flat Roof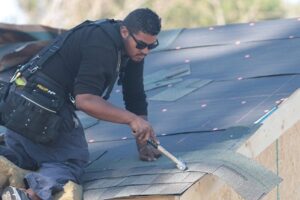 Is your business or home in need of a roof change or new roof? If you have already begun to explore your options, you might be aware of the multiple available options. Make this process easier and better for your business or home. You can do that by taking a look into the benefits of flat roof commercial properties and houses.
To avail the metal roofing services of Harbong Roofing and Siding in Wilmington NC, give us a call today at (910) 262-5508.
Overall Cost
One of the first things you need to consider is probably the overall cost of the roof. Thankfully, one of the benefits of flat roof homes is that they're among the most reasonable. That means it's possible to choose quality roofing materials without having to go bankrupt. Your existing budget, in addition to your future budget, is certain to enjoy the affordability.
Added Storage
One other fantastic element of flat roof homes is that they offer additional square footage on top of the property. That means it'll be simpler to install solar panels on the roof. You might even think about adding a garden or some plants on top of the house, depending upon how the residence is built. Don't appreciate the concept of having your outside AC unit out in the yard? A flat roof permits you to store it on top of the house instead.
Quicker Installation
Perhaps you have a hectic schedule and do not have the time to wait for the new roof to be installed. If you discover yourself nodding at that idea, you will be happy to know that the installation of a flat roof does not take long at all. If the roof change is for a new business or home, you do not need to wait as long to move in.
Convenient Maintenance
Regular and proper maintenance is critical for getting the most use out of the roof, no matter what the style is. Flat roofs are among the most convenient to maintain. They are also a safer choice for roof professionals; therefore, neither of you should be concerned with a major accident happening in the process.
Call Harbor Roofing and Siding in Wilmington NC today for an estimate on your metal roof project (910) 262-5508.