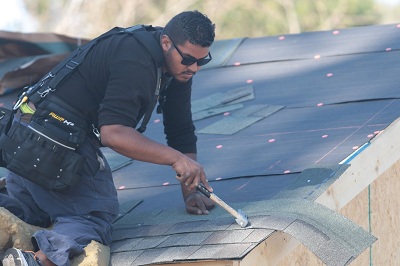 Asphalt roof shingles: they're among the most affordable roofing materials, and they come in a broad array of colors. Asphalt shingles are usually used on single homes, sloped roofs, as well as smaller home projects, to name a few. The material is extremely simple to install and offers flexibility during its process of installation. These days, shingles also come in different thickness and textures, and they may be treated against mildew and mold.

Kinds of Asphalt Shingles

Asphalt roof shingles are separated into a couple of classifications: fiberglass and organic. Organic roof ones are comprised of paper with an asphalt coating which converts them into a waterproof product. Fiberglass roof variants offer better fire protection than organic ones. As with organic shingles, fiberglass ones are treated using a resin coating which converts them to waterproof material. New technology and developments have led to the development of architectural shingles, utilizing 2 layers that are bonded with a unique sealant which adds an attractive visual effect to a roof.

How Much Money will a Shingle Cost?

Generally, shingles aren't costly and may be installed and acquired very easily. One bundle of shingles is going to cost around $30 + tax, which comes out to approximately $90 a square. The cost of a shingle is going to vary depending upon the sort of shingle being utilized. Square is an industry word, and it's defined as 100 sq. ft. Cedar shingles may cost as high as $300 a square; therefore, be aware while estimating that not every cost is the same.

Harbor Roofing & Siding

Harbor Roofing and Siding is a Master Shingle Applicator and Certainteed Shingle Master roofing contractor. We're proud to have workforce standards that produce the highest quality jobs that ensure warranty compliance and set ourselves apart from our competitors by having all of our installers pass the Master Shingle Applicator exam. We're one of the very few serving the Brunswick and Wilmington county regions to have this certification. In addition, Harbor Roofing and Siding has more than sixteen years of expertise installing quality siding and roofing. Look at our latest asphalt roofing projects.