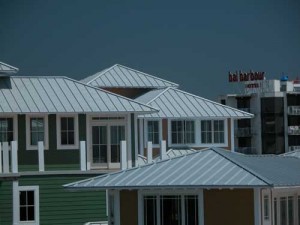 Metal roofing is now becoming more and more common. Here is a look into 5 benefits of this affordable and durable roofing option.
High Wind Resistance
Metal roofing is an excellent option for the ones living in windy areas due to its high uplift resistance. Unlike shakes and shingles, which easily can get pulled off by strong winds, the large panels that are used to create metal roofing are difficult for the wind to tear apart.
Energy Efficiency
Buying metal roofing will help to reduce your utility bills, particularly during the scorching summer season. This roof material reflects more sunlight naturally and keeps your house cooler, so your AC doesn't have to work so hard.
Style Variability
When most people imagine metal roofs, they think of those tin roofs of yesteryear. But today's metal roofing comes in hundreds of colors and styles. Some metal roofs are even made to look like the appearance of other roof materials, like cedar shakes or asphalt shingles. Whether you have a Victorian, Craftsman, modern, or any additional style of home, Harbor Roofing and Siding can help you match metal roofing that goes with its design.
Longevity
If there's metal roofing currently on the house, odds are good that you never will need to replace it again within your lifetime. Metal roofing generally lasts for more than 50 years. Compare this with the 20-year life expectancy of shingle roofing, and metal roofing looks like an excellent investment.
Low Maintenance
Metal roofing requires very little as far as maintenance is concerned. It isn't a breeding ground for mold and algae like other roofing materials; therefore, you will not need to be concerned with frequent roof cleaning. There aren't any shingles to keep nailing down or replace. Today's metal roofing is designed of rust-proof materials, such as zinc-aluminum blend; therefore, you do not even need to coat or paint it. Re-sealing joints between the panels every two decades is the only maintenance that's occasionally necessary.
Call Harbor Roofing and Siding at (910) 262-5508 to learn more information about metal roofing and superior services that are available in Wilmington, NC.