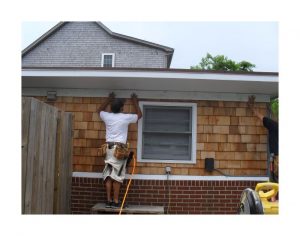 It is common for homeowners to want something new or different when remodeling a home.  Those who are building also would like something that will stand out.  Cedar is a very popular choice here in North Carolina.  A new different route some are taking is fiber cement.  Which one is right for you?
CEDAR
Cedar siding comes in a shingles, called shakes, and can be treated or untreated.  The choice cedars are Western Red and White Cedars.  They come in several different styles and shapes.  More modern designs include tongue and groove or board-and-batten (traditional style).
Cedar has natural pest repellant qualities and gains a beautiful patina as it ages.  It is also highly rot resistant.  With a bit of annual care, cedar will last a very long time.
For all of its wonderful qualities, cedar does have its drawbacks.  Woodpeckers do bore holes into cedar which can cause insects to take hold.  Stains and paint must be reapplied every few years; a task best left to professionals.  Cedar is also expensive – costing up to seven dollars a square foot, a real expense on the outside of a home.
FIBER CEMENT
 Man made siding has come a long way in recent years with fiber cement (cement board) leading the way.  It is a composite of several materials including cement and cellulose fibers (essentially wood) and formed into planks or shingles.  Each piece comes pre-painted or paint after installation to the choice of the homeowner.  Fiber cement offers the same versatility as cedar and can even mimic cedar wood's rustic look.  The look can be rather suspicious to the discerning eye as the fibers will be too closely similar thus looking nothing like wood.  Its cost is approximately ½ of cedar as well.
We at Harbor Roofing can offer you several options of both along with additional details about each products advantages and disadvantages.  Regardless of what you select, you can depend on us to give you a fair price, excellent service and a lasting product that will make you and your family happy.