How to Extend and Preserve the Life of Your Roof?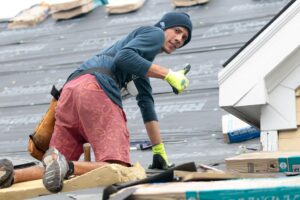 Here in this post, Harbor Roofing and Siding gives tips on extending and preserving the life of your roof:
If you want your roof to last longer, avail the trusted roofing services of Harbor Roofing and Siding. Call us now at (910) 262-5508
Roof inspection
Make sure you receive an expert roof inspection before the date of closing upon a new house in case you're a new home buyer. That way, you'll have the ability to address all problems that might cost you a ton of money if left neglected.
Landscape
Tree landscaping is as important as it is to maintain a nice lawn. Problematic trees might cause scratching to the roof's shingles, gouging and puncturing the roofing materials if branches are leaning over your roof.
Clean all leaves
All of us like the fall appearance of trees and our children may even appreciate a bit of play time on those crunchy leaves yet you would not want to have the vibrant-colored leaves stuck inside your gutters. An accumulation of dead leaves may clog your gutters, and prevent water from freely flowing down the gutters and retain moisture on your roof which might later cause mold around your home. It also is suggested that you clean the roof about two times per year and look for damaged drain elements or saggy gutters and, as necessary, replace or repair.
Include insulation
The ideal method of achieving good airflow, as well as appropriate ventilation is through correct insulation. In order to safeguard a home from heat loss or heat gain, it is ideal to have an insulation layer that is free of gaps on the floor of your attic and vapor retarder underneath the insulation close to the ceiling in order to stop moisture from rising inside your attic.
Look for indications of shingle damage
Being exposed to daily wear from a variety of elements may cause roof shingles to get torn off and become dilapidated, making an interior space and roof structure prone to rot, as well as water. Therefore, it is strongly recommended for homeowners to assess roof coverings every year in order to ensure their integrity.
As you create a list of all of the professionals you should add to your speed dial, do not forget your roofing contractor. Get in touch with Harbor Roofing and Siding at (910) 262-5508 right away for more details!