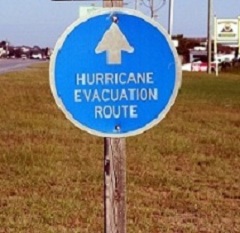 It is the summer and with summer comes hurricane season.  While the Atlantic has been relatively quiet so far this year, it does not mean we will not have our share of hurricanes.  Here are some great tips for you to be ready if a hurricane hits, and there is a notice to evacuate.
Plan – The warning to evacuate may come quickly. Be ready to go at a moment's notice;
Keep an eye out – Follow news reports and be aware of flooding/surge locations;
Do not drive into or in water. You may not know the depths;
Disaster supplies – Have enough of water, food and medications for seven days per person;
Lighting – Candles, flashlights and plenty of batteries on hand;
Gas – Keep your tank full at all times;
Secure loose items – Bicycles, lawn furniture and the like can be dangerous in high winds;
Keep it cool – Turn the refrigerator to the lowest setting to keep food cold as long as possible;
Tools – A multi-purpose tool is something good to have on hand at all times;
Cell phones – Keep your phones charged and chargers within arms reach;
 If you have a generator, keep it handy and have fuel for it;
Insurance – Your homeowner's policy should be around, find it and have it handy for damage.
Take pictures – Have pictures of valuables and damage if your home takes any;
Keep calm – Panic is only going to make things worse;
Have Harbor Roofing and Siding's number handy.
There you have it.  15 solid tips for when and if a hurricane comes.  Should your home take any hurricane damage, do not hesitate to call us.  One of our helpful technicians will come to your home and survey the damage for the insurance adjuster.  Once we have everything in order, we will work fast to get you back into your home and to a normal life.
www.harborroofingandsiding.com